Quaint Hotel Nadur
Quaint Boutique Hotel Nadur
Quaint Boutique Hotel Nadur is located behind the Church in the main square of the village of Nadur. The hotel consists of twelve rooms. All rooms are air conditioned and come with a flat-screen TV, tea and coffee facilities, free toiletries, in-room safe, and a desk. Some of the rooms contain a jet-tub and one of the rooms contains an outdoor whirlpool jacuzzi. The hotel offers an a-la-carte breakfast. The property has a pizzeria and a restaurant, both with outdoor seating.
Fully air conditioned property
Free WiFi access throughout
Easy street parking
On-site dining options:

Fat Rabbit Restaurant
Del Capo Pizzeria

Available room types:

5 Comfort Rooms
2 Deluxe Suites
2 Deluxe Duplex Suites
3 Superior Penthouses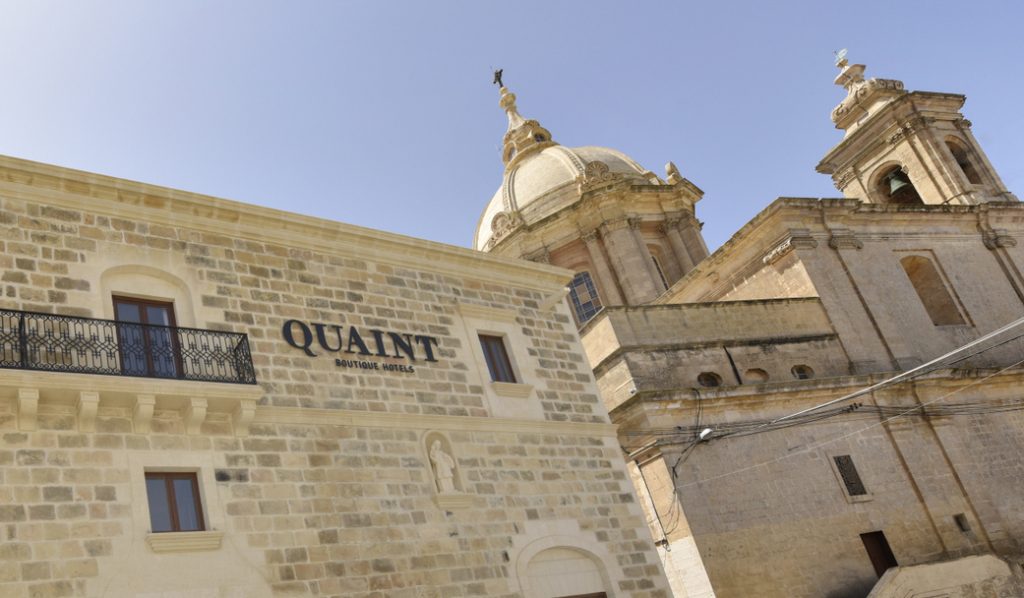 Restaurants at Quaint Hotel Nadur
The Fat Rabbit specializes in Local and Mediterranean cuisine. Dining options are available indoor and outdoor.
The best dough and the freshest ingredients possible, so that you can bite in the best possible slice of pizza!
"In-Nadur" is located on a hill to the east of the island of Gozo. The village is known for its high belvedere vantage points providing some of the best vistas over the archipelago.
As with most the Gozitan villages, Nadur life revolves around the baroque Parish Church which dominates the Nadur skyline. One may find various eateries around the square ranging from snack bars, kazini (the local football and band clubs), a-la-carte restaurants, and bars. Traditional bakeries in Nadur are also popular, with the oldest bakery opening in the 1930s.
This island of Gozo is small and accessible. Close by are the beautiful beaches of San Blas and Ramla. In addition there is Daħlet Qorrot which is a delightful small bay very popular with fishermen as well as local swimmers. Being surrounded by stretches of fields, Nadur is also ideal for hiking and walks.